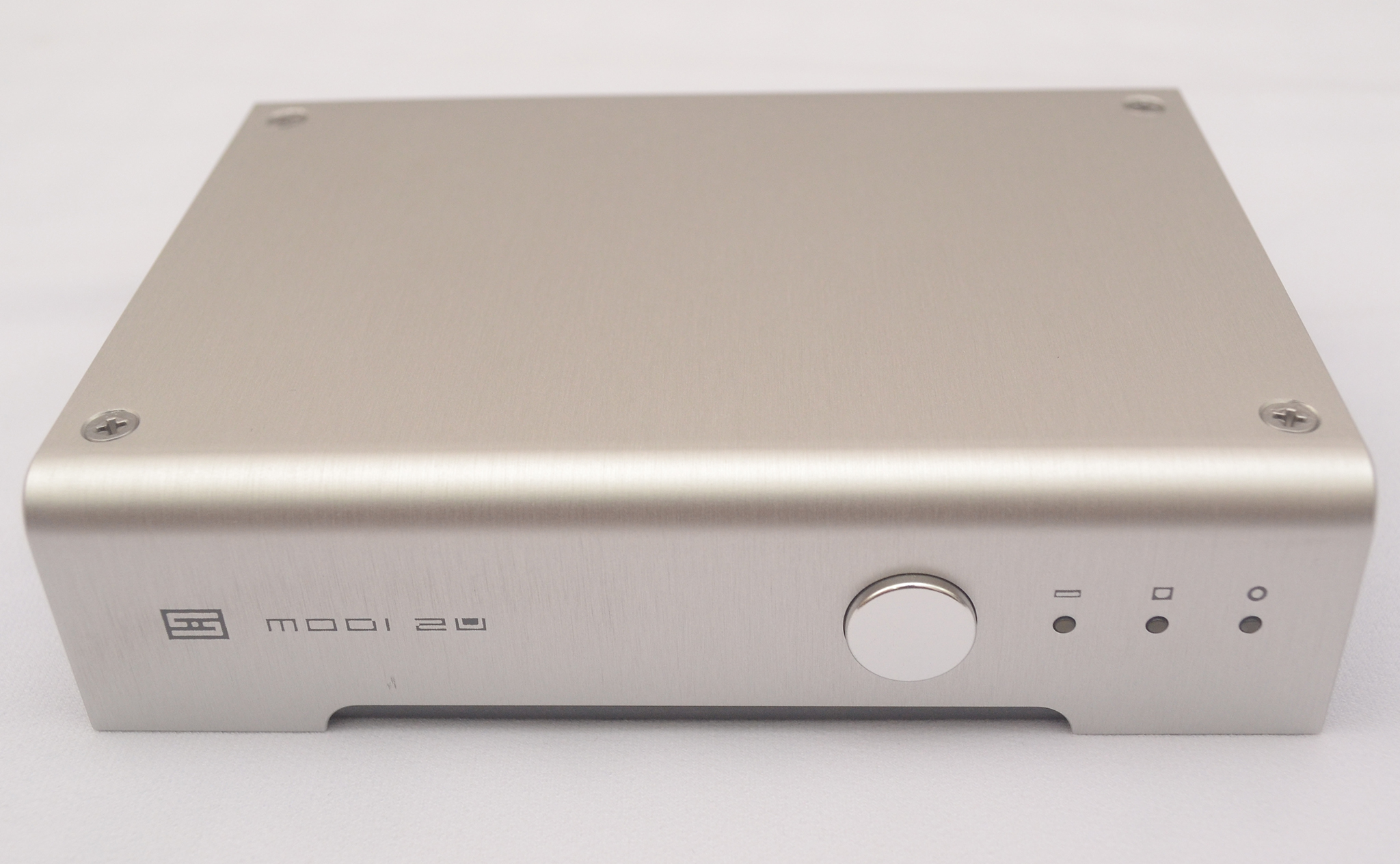 What is there to be said about Schiit that hasn't been said by basically anyone that has ever heard their gear. It punches way above it's price range. I'll be comparing this directly to the Apple USB dongle as it's a great, clean, baseline to compare to. Every built in DAC/AMP will sound different on phones or laptops that have them still fit in, so it seems like a fair comparison to something people have heard, and are cheap to obtain, and my personal baseline for portable audio on the cheap.
Comparing the Modi, which is an older AKM version of the Modi that they sell now, to the Apple dongle, it's instantly apparent that the low end was totally missing most of it's body. Schiit's house sound seems to be an emphasis on low end body. Not to say that it's boosted, but it feels more full than many other DAC or AMP products on the market. In most electronic music, it is very noticable that bass just feels like it's there, and commands attention. Not only the body feels like there's more substance, at least through what equipment I've tried, it has a bit more punch and slam. When comparing to the Apple dongle, sub bass exists. I don't have measurements to prove anything, but it feels like there just is no sub bass on the Apple dongle, even when put through an amp with more than enough power.
Credit where credit is due, the Apple dongle actually has decent mids. I wish I had more words to put here, but they are actually fairly close. If I were to really nitpick at high volume, there seems to be some slightly better layering coming from the modi in very busy tracks, but most music I can't hear much difference in this range. Clarity on both is great within their price range, and better that I have heard on many integrated devices I've owned, both phones and laptops. There's a reason I bring an Apple dongle everywhere, and it's mids, where IEM's tend to be best at.
There's little contest when it comes to highs. The Apple dongle just seems to fall off when it comes to the "air" region. Breathy notes come in with much more detail, stringed instruments, especially acoustic sound much more detailed. If you listen to a lot of classical, orchestral, or otherwise raw acoustic music, and have a decently detailed headphone, this is quite a big step up.
Honestly, at $129, with the improvements that Schiit has added on top of the older modi 2 that I have, it's an absolute steal. One of the weak points of the older modi was they used off the shelf USB chips, and they had issues with jitter. Since the modi 3, they have moved to Unison USB, their custom built chip that helps out massively with jitter. This improves the sound quality to a degree, though it's not enough that I would say "You have to have it". I got to demo these at The Schiitr, and they sounded within margin similar to the Modi 2 uber I had at home, though they may have been more detailed. I can't say for certain as I don't have both in front of me to A/B test, but you aren't getting a worse DAC if you buy one new.
Honestly, at $129, with the improvements that Schiit has added on top of the older modi 2 that I have, it's an absolute steal. I won't sit here and pretend like I haven't heard better, but they were all well above this price, and only mattered with headphones that were over $1000. If you aren't planning on going in that deep, it's a no brainer if you want to get a ton out of your mid-fi setup from $100-1000 range of headphones, I can honestly recommend this highly.
Thanks for reading! Read other posts?
---